Today, Sanders Family Winery produces and sells a variety of award winning wines. The Sanders Family is a long-established name in Nevada wine making. Precise cellaring techniques result in wines that are wonderfully smooth and palatable. Each of our wines represents our supreme effort to bring you premium wines of exceptional balance and character. Our Pahrump, Nevada vineyard is located about an hour from Las Vegas, Nevada.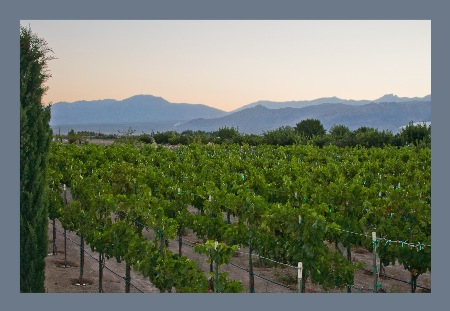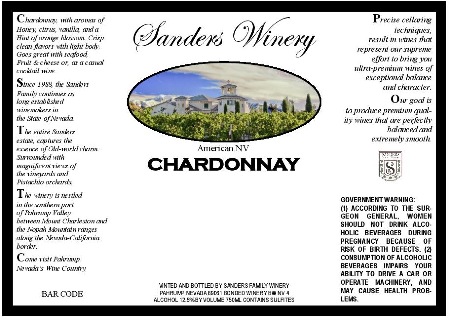 CHARDONNAY:
14.2% Alc.
100% Chardonnay with aromas of honey, lemon, vanilla and a hint of orange blossom. Full body flavor, crisp citrus and no oak.
$17.00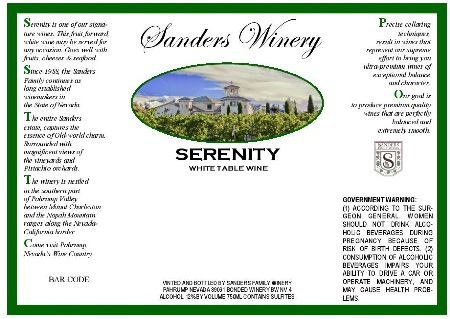 SERENITY:
12.5% Alc
Sanders special blend white, semi-sweet wine with aromas of pear and apricot. Flavor of sweet jasmine and pear. Perfect white wine with fruit, cheese and someone you care about.
$13.00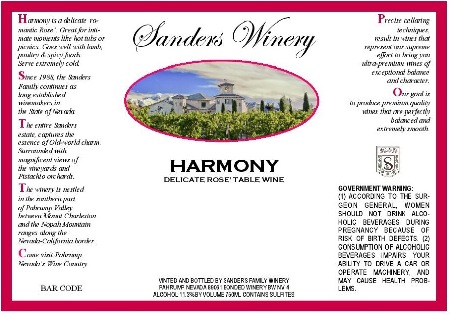 HARMONY:
12% Alc
Light rose' color with aromas of strawberries and plums. Flavor is reminiscent of strawberry, tangy citrus and melon. Perfect hot tub, pool and patio wine.
$13.00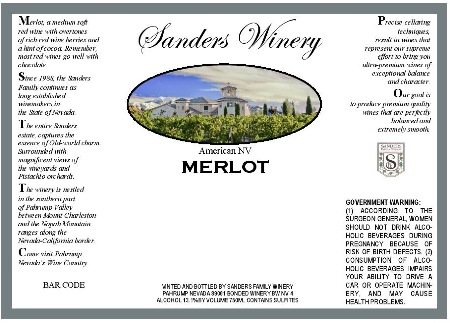 MERLOT:
12.7% Alc
Deep red with cherry, chocolate and cloves. Round smooth tannins, with flavors of cherries, red currant and cocoa.
$16.00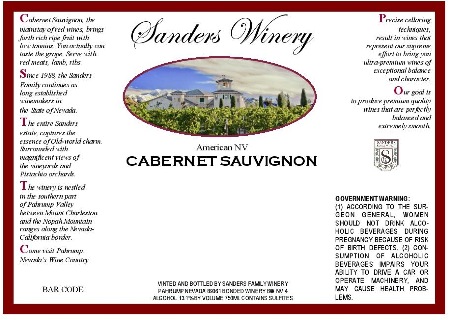 CABERNET SAUVIGNON:
13.1% Alc
Garnet red in color, aromas of blackberry and cayenne pepper. The flavor is refined tannins with overtones of blackberries, currrants and spicy hints of pepper. Try a bit of chocolate with this wine.
$18.00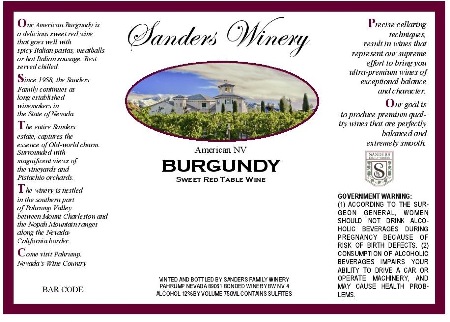 BURGUNDY Sweet Red Table Wine:
12.5% Alc.
WOW! You asked for a sweet red wine, you got it! Rounded full body flavors of the specially blended select grapes. Sweet, delicate complex flavors. Best served chilled to bring out its fruity sweet taste.
$15.00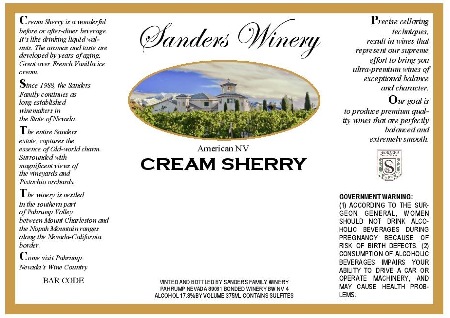 CREAM SHERRY
17.8% Alc
Like drinking liquid walnuts. Golden in color and velvety smooth in texture. The aromas and tastes are very richly developed by years of aging. Cream Sherry has long been a favorite of the Sanders Family history. Also good over vanilla bean ice cream.
$18.00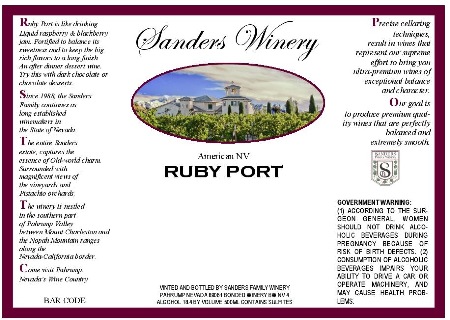 RUBY PORT
18.4% Alc
This wine has an amazing aroma and taste of rich plum jam and black raspberry preserves. Fortified to balance its sweetness and to keep the big rich flavors and long finish. Try this over Ben & Jerry's Cherry Garcia ice cream. Remember, a little goes a long way!
$24.00
RUBY PORT
18.4% Alc
This RUBY PORT is a limited release, commemorating our States 150th Birthday. We feel extremely proud, "Nevada Proud" to be part of this celebration and, are very happy to release this very special packaging in 2014.
$35.00